Saturday, January 4, 2014
I finished a project today! Wow~I amaze myself. While visiting a friend in the fall, I was inspired by her framed Mary Engelbreit print, 'A Charmed Life'. She added vintage buttons inside the shadow box style frame and I was entranced. Today, I searched through my jewelry to find my old charm bracelet along with some other charms, pins and Cracker Jack prizes I have collected. I remembered that I bought a shadow box frame with a padded back (@9"x11") at Pottery Barn some time ago (I think Hobby Lobby has one like it) as well as purchasing the afore mentioned ME print (actually a greeting card which measures 5"x7") online and got to work, polishing the sterling silver and planning what would go where. Luckily, I had some short pins in my stash which I used to pin the extra charms in the padding. I ended up taking all my charms off to rearrange them~my fingers are sore from prying open the jump rings. But I am very pleased with what I accomplished and I have room to add more charms! So is this project really finished?! The hunt is on!
The frame is pictured with the glass closed (the frame has a magnetic closure).
Here it is pictured opened.
This is my friend's inspiring project with a portion of her collection of vintage buttons. Loverly! Thanks, Jen, for the inspiration! I am joining Nita for Mod Mix Monday! http://modvintagelife.blogspot.com/2014/01/mod-mix-monday-134.html And also Linda for Nifty Thrifty Tuesday http://linda-coastalcharm.blogspot.com/2014/01/nifty-thrifty-tuesday-no194.html Joining Kim for 'Wow Us Wednesdays' at Savvy Southern Style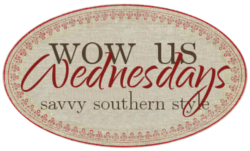 http://www.funkyjunkinteriors.net
Posted by

Lee
at 8:55 PM
13 comments: