I LOVE Halloween so I tend to get carried away....as you can see by see by the look of my mantle.
I added the moss recently to make it a bit more spooky.
I have quite a collection of gourds with features cut out. I found the lamp last year at a decent price and did not wait for it to go on sale, just grabbed it! Love that it adds height to my mantle. The small owl perched in the wreath is part of a Winnie the Pooh set made by R John Wright. he tempers the spooky with his sweetness. The clock was purchased from QVC. I added the scene inside-a haunted house with full moon and jack o'lantern, all lit by tiny grain of wheat lights. The Trick or Treaters are Wee Forest Folk (which I am crazy for!). I bought the huge owl cutout (under the mantle) on sale several years ago at 90% off! Love to find those great sales!
HaPpY HaLLoWeEn!
I am joining
* Layla at The Lettered Cottage for a mantle kinky party!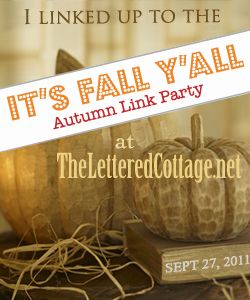 * Kim at Savvy Southern Style for Wow us Wednesday